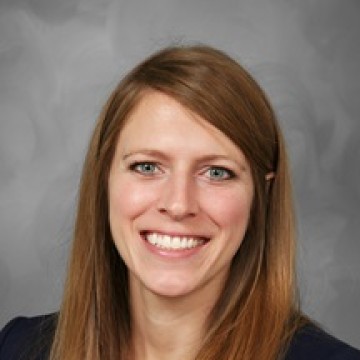 Amanda C. Maltry, M.D.
Ophthalmologist
Dr. Maltry is a board-certified comprehensive ophthalmologist. She has experience in diagnosing and treating a wide array of adult eye diseases including cataracts, glaucoma, macular degeneration, diabetic eye changes, and dry eye. Dr. Maltry also offers routine eye care and treats eye emergencies. She performs laser procedures and eye surgeries with a special interest in cataract surgery, including advanced intraocular lens implant technology.
Dr. Maltry was recognized in the "TopDoctor" issue of Minneapolis/St.Paul magazine as a Rising Star for three consecutive years. She was honored with an Achievement Award by the American Academy of Ophthalmology for her commitment to advancing the profession and positively impacting patient health. She was voted Best Teaching Faculty and the Surgical Teacher of the Year by the ophthalmology residents at the University of Minnesota.
A Midwesterner at heart, Dr. Maltry grew up in Wisconsin, received her Bachelor of Science in Biology at Iowa State University, and then earned her medical degree from the University of Wisconsin School of Medicine and Public Health. She completed her ophthalmology residency, followed by a fellowship in ophthalmic pathology, at the University of Iowa Hospitals & Clinics.
After training, she moved to Minnesota and joined the University of Minnesota as an Assistant Professor. She is a member of the faculty in the Department of Ophthalmology & Visual Neurosciences performing ophthalmic pathology and teaching medical students and ophthalmology residents. Dr. Maltry also serves our veterans at the Twin Cities VA Medical center where she staffs resident cataract surgery.
Education
Iowa State University
University of Wisconsin School of Medicine and Public Health
Transitional Internship, MacNeal Hospital
Ophthalmology Residency, University of Iowa Hospitals and Clinics
Ophthalmic Pathology Fellowship, University of Iowa Hospitals and Clinics
Specialties
Medical eye diseases
Cataract surgery
Certifications
American Board of Ophthalmology
Centennial Lakes Surgery Center
Edina Specialty Surgery Center
What Patients Are Saying About Us
We're Minnesotans, so we don't like to brag. But, hearing how we've earned the trust of our patients is always rewarding.
Meet Our Physicians
As an independent eye care clinic, our ophthalmologists never rush through appointments or promote unnecessary treatments. You get expertise without ego.