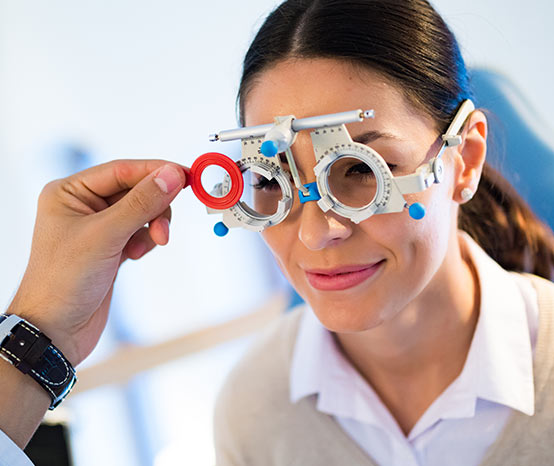 Eye Exams
Healthy eyes and sharper vision start with our comprehensive eye exams. First we talk through any vision concerns, and discuss your daily activities, such as computer use, reading, driving, and work tasks.
Then we examine your eyes for near and distance clarity and overall function, determine your glasses prescription and evaluate your ocular health. This includes testing for common eye diseases such as: dry eye, cataracts, and macular degeneration. We will address your current concerns and detect issues that may affect your vision in the future.
Your questions are encouraged at every step in our exam procedure.
Some medical plans have routine benefits through a vision plan (such as Eye-Med, David Vision & VSP). We are not contracted with any vision plans and would be an out-of-network provider to you.
Preparing For Your Appointment
First appointment? Please arrive early to complete registration paperwork. You can also complete your registration online by clicking here.
If you wear glasses, bring in your most recent pair so we can check your current prescription.
Please bring your insurance information and personal identification.
If you wear contacts, feel free to bring a contact case and solution. Although we always have both available for you.
Bring a pair of sunglasses in case we need to dilate your eyes. Eyes may be sensitive to sunlight for a few hours following dilation.